Social Benefits for Self-Employed: from Policy to Practice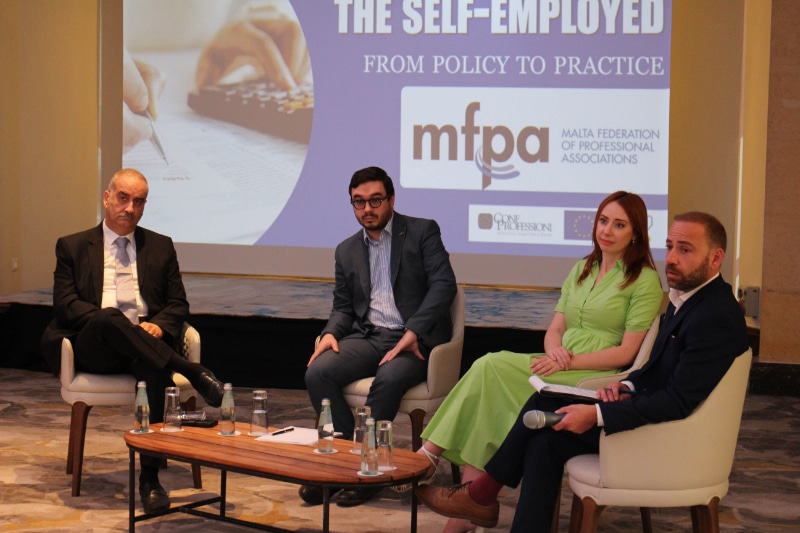 In its mission to collaborate with international organisations, MFPA partnered with Confprofessioni, the Italian Federation of Liberal Professionals, on an EU Funded Project 'Mutuus', VP/2020/001 Support for Social Dialogue. The project was led by Confprofessioni, and other partners included CEPLIS, Equal Ireland and Uni Europa.  As part of its activities, MFPA organised a business breakfast in collaboration with The Malta Independent, entitled 'Social Benefits for Self-Employed: from Policy to Practice'. The event was held on Thursday 23 June 8:15 – 11am, at the Marriott Hotel & Spa, St Julians. The programme included:
keynote speech by Mr Grazio Barbara, DG Social Security

panel discussion moderated by Neil Camilleri, Editor-in-Chief, The Malta Independent with the participation of Ms Abigail Mamo, CEO, Malta Chamber of SME's, Mr Gian Paul Gauci, Deputy CEO, Union Ħaddiema Magћqudin and Victor Carachi, President General Workers' Union.  

introductions by Mr Benjamin Rizzo, President MFPA and Ms Norma Camilleri, CEO MFPA
Participants at the event included representatives from unions, professional associations, government as well as professionals in self-employment.
Media reports covering the event and related articles: